Our fully qualified engineers are waiting for your call: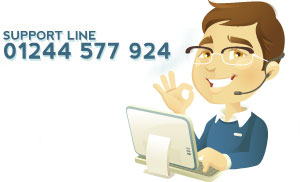 Our IT Support is designed for customers who do not want the additional cost of in-house IT but need a reliable solution. From server installation, simple ADSL or wireless problems and full computer network cable installation. We are the leading IT support company in the Chester and Wrexham area. We take complete responsibility for our customers IT requirements allowing you to concentrate on running your business.
"Our company has grown quickly over the last 2 years; Mode has always there to help our IT grow with us" leading aerospace contractor, Chester

"We have a problem, we call Mode and they fix it, a lot of the time remotely"
interior design company, Chester

"When our Server finally gave up Mode was able to provide a new server making us far more efficient" Mortgage provider, Merseyside

"We used to share files on our computers using memory sticks and had individual printers, since Mode installed our server productivity has increased. "
Chartered Accountants, Chester

We are passionate about allowing our customers to focus on their business without the worries and concerns about their IT. If you would like for one of our consultants to talk to you about any IT problems or projects, contact us today.